Finding the right mattress for your baby's crib is perhaps one of the most important baby gear decisions a new parent makes. A too-soft mattress poses a safety hazard for newborns, while a too-hard mattress can make it difficult to get the baby to sleep at all (and a sleep-deprived parent is a considerable hazard of itself).
As a mother of three, I know how tough this decision can be. You want the safest surface for your baby, you want your baby to sleep comfortably, and you want to have a few bucks left in the bank for diapers after you've purchased the mattress.
We tested seven of the best-selling and highest-rated crib mattresses on the market for four main criteria: firmness, ease of cleaning, odor, and special features. It's not easy to meet all of these needs with one model, but we found a happy medium with the Colgate Eco Classica III Dual-Firmness crib mattress (available at Amazon for $192.99).
To learn how we tested and selected the baby mattresses, jump to how we tested. Here are the best crib mattresses rank, in order:
Colgate Eco Classica III
Delta Children Twinkle Stars
Naturepedic Ultra Breathable 2-Stage Organic
Moonlight Slumber Little Dreamer
Lullaby Earth Breeze
Sealy Soybean Foam Core
Safety 1st Sweet Dreams
Updated March 06, 2018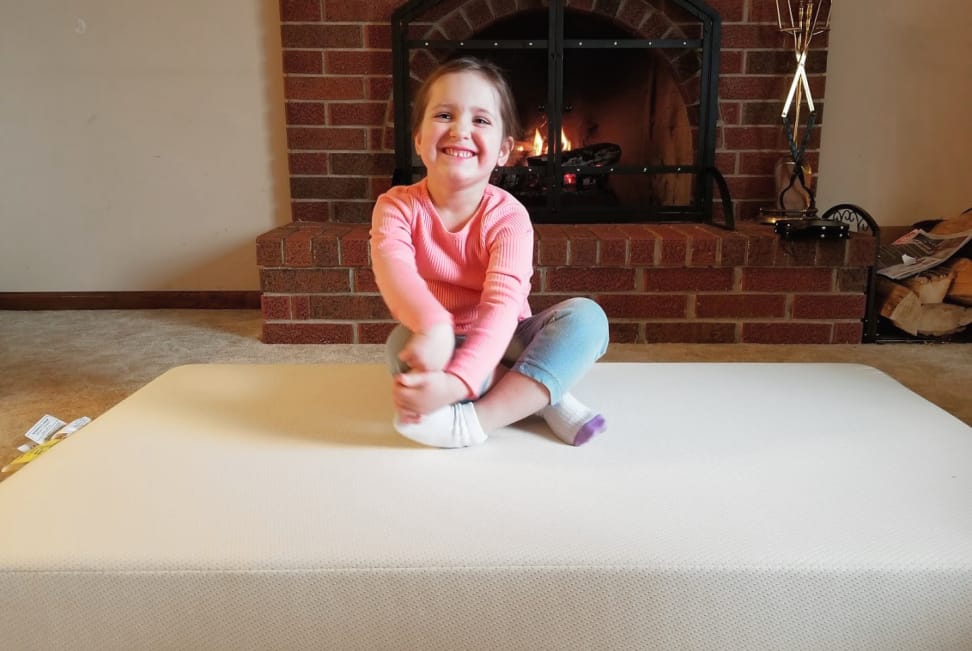 Colgate Eco Classica III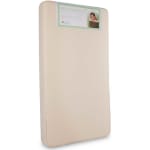 Colgate Eco Classica III
Best Overall
Even before testing, we were immediately drawn to the Colgate Eco Classica III. As a top seller on Amazon and with a 5-star rating from BabyGearLab, we had high expectations for this mattress which were (mostly) met.
The Colgate Eco Classica III is both CertiPUR-US and Greenguard Gold certified, which means it comes out of the package with very little smell, and the smell it does have is somewhat earthy and not unpleasant. These certifications also mean, of course, that the mattress is considered to emit very low levels (if any) of volatile organic compounds (VOCs). That's a plus because nobody wants their baby breathing in that business all night.
"We recommend that parents look for the Greenguard certification seal when trying to verify if a product does in fact meet low-emissions standards since Greenguard screens for more than 10,000 volatile organic compounds (VOCs)," says Colgate President Alan Wolkin.
The Eco Classica III is also a dual-sided mattress, so it's a good combination of safety and comfort from birth through toddlerhood. The infant side is firm without feeling too hard for comfort, while the toddler side has just enough give without being too soft. The edges are squared instead of rounded, which makes for a secure crib fit.
It's covered in an organic cotton cover that provides breathability while protecting the mattress itself from liquids. The cover is wonderfully soft, but it was also the source of our one major gripe with this mattress: the cover isn't removable for washing. While it may protect the mattress itself from liquids, the cover soaks them up and stained terribly in our tests. The fact that you can't remove and wash the cover feels like a glaring design flaw, but if you're willing to top it with a mattress protector, it's a great mattress.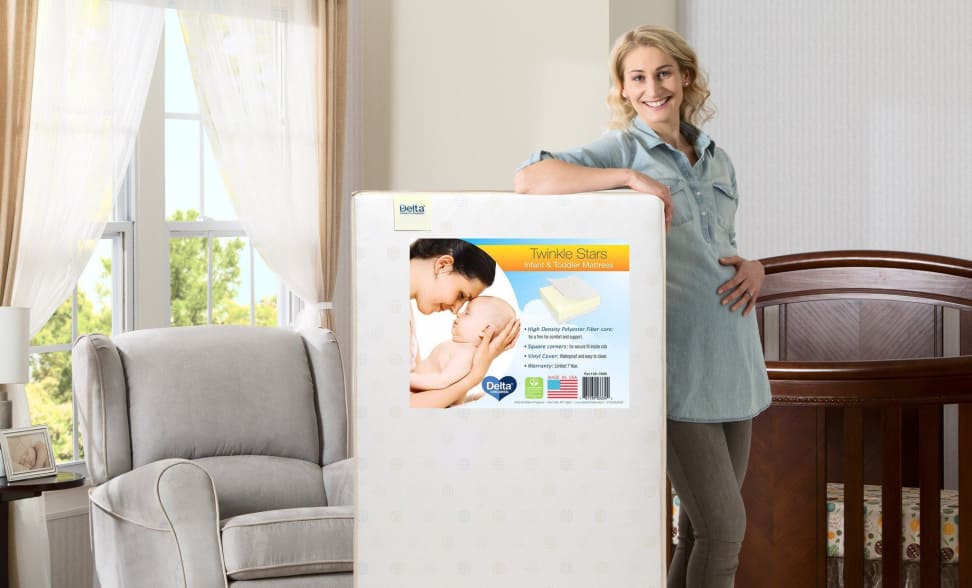 Delta Children Twinkle Stars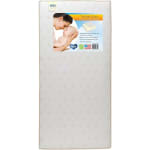 Delta Children Twinkle Stars
Best Value
We tested three mattresses that priced $100 and under: the Safety 1st Sweet Dreams, the Sealy Soybean Foam-Core, and the Delta Children Twinkle Stars. Of the three, we liked the Delta Children Twinkle Stars best. While overall none of these three are super firm like the higher-end mattresses we tested, the Delta Children Twinkle Stars is not as squishy at the edges as the Safety 1st or the Sealy. We felt more confident that little appendages won't get trapped between the crib and the sides of the Delta Children Twinkle Stars than the other two. Unfortunately, the coffee we poured onto the mattress surface soaked into the stitching on the side, but we felt the safety aspect was more important. Aside from the edges, the three mattresses performed very similarly in our testing. The Sealy came out of its package with less of a chemical smell than the Delta, but we didn't feel the difference was enough to justify spending twice as much.
Also, many Amazon reviewers commented that this mattress is very firm. Customer A. Fawbush found it to be a plus: "Yes, it is firmer than most mattresses I've come across for kids, but my child actually prefers it that way. (As do I knowing she won't be bouncing this one into oblivion.) My husband jokingly tried it out -- he's 5'4, over 230 pounds-- and it did not budge on her slats, so I was impressed."
Some reviewers, however, found it to be too hard. User Love Camo said, "This product got here on time but the mattress is so hard that my child won't sleep on it. We had to get some foam and cut it to the length of the mattress and put the mattress on the bottom for support. I realize that kids are supposed to have a firm mattress but not to the point of not being comfortable."
We found that, when it comes to crib mattresses, the old adage "you get what you pay for" rings true. We'd recommend you step up to the Colgate Eco Classica if possible, as there's a considerable difference in the quality and feel of these two mattresses, but if your budget is tight, the Delta Children Twinkle Stars is a safe bet.
How We Tested
I'm Sarah Kovac, mother of three and firm believer that a good night's sleep for a baby is in the interest of everyone in the house. I've tested and written about lots of baby and parenting products.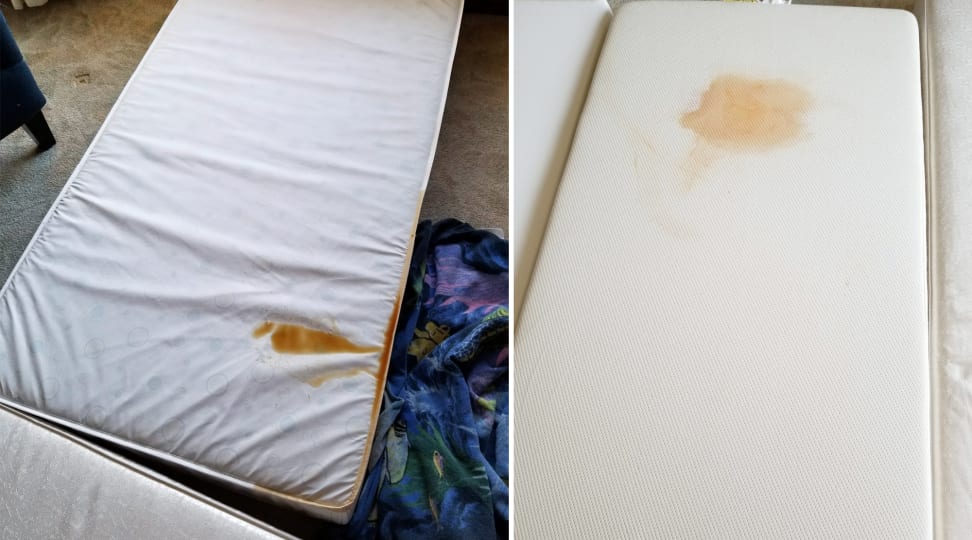 Seven of the best-selling and highest-rated crib mattresses on the market were tested for four main criteria:
Firmness: I had my 35-pound toddler sit in the middle of each mattress and noted how much the surface indented under her weight. If the mattress had both infant and toddler sides, we tested the firmer (infant) side.
Cleaning: On each mattress we dumped a half cup of chunky marinara sauce as well as a quarter cup of coffee. We immediately wiped the mattresses off and noted how easy they were to clean and whether a stain remained after scrubbing with dish soap.
Smell: We lined all the mattresses up immediately after unpackaging and compared the amount and kind of smells they put off. None were overpowering, though the smells ranged from chemical to earthy.
Special Features: Really the only special feature any of these mattresses offered was dual-sidedness. That's a pretty big deal, though, since a dual-sided mattress offers both optimal infant safety and toddler comfort.
Things to know about crib mattresses
There are volumes upon volumes you can read about healthy baby sleep, and helpful resources like the American Academy of Pediatrics about where to put the crib, but here are some quick facts about crib mattresses:
Crib mattresses are all the same size (kind of). By Federal law, crib mattresses have a minimum size of 27 1/4" x 51 5/8" with a thickness not exceeding 6 inches. Also, cribs themselves have a mandated interior size of 28" x 52 3/8". But because there's an allowable tolerance for cribs (i.e. it can be a little smaller or larger than the target size), the mattress may have some wiggle room in the crib. Or worse, it may be too big. So hang onto that receipt.
Always buy new. Older mattresses may not have been subject to the same safety regulations as modern mattresses. Mold and bacteria can also grow on old mattresses, depending on cleanliness and how they were stored.
Fire-resistance is a given. There are both Federal and State flammability standards that mattresses are required to pass before they can be sold. But the chemical and material composition of the mattress may vary widely from brand to brand. The presences or absence of certain fire retardants (beyond those banned by law) is a hotly debated topic in some circles. In rare instances there have been safety recalls. We'll be keeping an eye on mattresses we recommend in this roundup if there is ever news.
"Organic" doesn't mean what you think it means. Everybody wants the best for their baby, and buying organic is frequently a must-have for parents. Unfortunately there are no legal standards for the terms "organic" or "natural" when it comes to crib mattresses. It may refer to some of the material, like the cotton or wool, but not other components. If this is your make-or-break criterium, read the brands' websites carefully. Many of our recommendations here, like Naturepedic, take the topic very seriously and write about it at length on their site. CertiPUR-US and Greenguard Gold certifications might also be useful to know about, but understand that each is designed to test only specific attributes.
---
Other baby mattresses we tested
Naturepedic Ultra Breathable 2-Stage Organic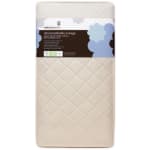 Naturepedic Ultra Breathable 2-Stage Organic
The Naturepedic Ultra Breathable 2-Stage Organic crib mattress was hands-down our favorite of those we tested. It smells pleasant, it performed well in our stain tests, it's dual-sided, and it has a breathable organic cover that (unlike that of the Colgate) can be removed and washed. The cover is beautifully quilted and the mattress itself is solid yet light enough for easy sheet changes. It just looks and feels like quality.
So if it was our favorite, why doesn't it top the list? Because that quality comes at a price: in this case $399. We felt that was just too much for many families. However, if your crib mattress budget allows it, we're confident you'll be very pleased with the Naturepedic.
Moonlight Slumber Little Dreamer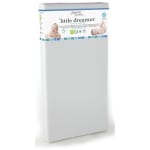 Moonlight Slumber Little Dreamer
The Moonlight Slumber Little Dreamer was one of only two that we tested that refused to stain, no matter what we threw at (on) it. Spaghetti sauce and coffee both wiped away without a trace. This mattress also boasts the squared edges we liked so much on the Eco Classica III, and when we tested firmness with the mattress on the floor, it seemed solid while staying comfortable on both the infant and the toddler side. However, once we put the mattress in our crib, we felt it sagged too much. Granted, our crib has survived through two rowdy toddlers and the springs are probably not as stiff as they originally were, but many babies sleep in hand-me-down cribs, so we thought this was worth noting. On a solid surface, we loved the Moonlight Slumber Little Dreamer. On a surface with some give, it just sunk in more than we were comfortable with.
Lullaby Earth Breeze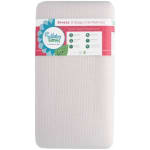 Lullaby Earth Breeze
The Lullaby Earth Breeze boasts many of the features we also loved about the Naturepedic Ultra Breathable 2-Stage Organic mattress. It has a removable, breathable cover as well as dual firmness and a waterproof surface. It is the only mattress that didn't let off any kind of smell when we unpackaged it, and despite the similarities, the Lullaby Earth Breeze is considerably less expensive than the Naturepedic. Over $100 less. What we didn't love was that the infant side of the mattress is firm to the point of being hard. It was firmer than all the others we tested by quite a lot. Maybe it's extra safe, but the sleep a parent could lose trying to get their infant to sleep on such a hard surface is also a hazard worth considering.
Sealy Soybean Foam Core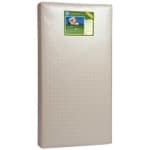 Sealy Soybean Foam Core
While we were happy with the overall firmness of the Sealy Soybean Foam Core crib mattress, the edges sank under very little pressure, even in comparison to the more-affordable Safety 1st Sweet Dreams and Delta Children Twinkle Stars crib mattresses. An anonymous customer said in their Amazon review, "I returned this mattress immediately after I received it. It sounds great but when I put it in my daughter's crib and tried to put a sheet on it, the corners sank in leaving a gap big enough for my baby's head to get stuck and possibly suffocate her." The top layer of this mattress also made a lot of crinkling noise when our test toddler moved around on it. It does have both the CertiPUR-US and Greenguard Gold certifications, so that's something.
Safety 1st Sweet Dreams
Safety 1st Sweet Dreams
The Safety 1st Sweet Dreams crib mattress was the most affordable of those we tested, but despite its low price and good ratings on Walmart.com (4.5 stars across 1554 ratings), we weren't impressed. Out of the package, it had a definite chemical smell, and the surface was very crinkly. It deterred stains well, but the surface doesn't feel especially durable. We wouldn't expect it to last through multiple children without some tearing and cracking, but at this price point, you could just buy a new one for each child.