After testing eight models over two and a half days—and making dozens of mushy, baby-ready servings of six kinds of foods—we highly recommend the Cuisinart Baby BFM-1000 Baby Food Maker & Bottle Warmer (available at Amazon for $104.93). Priced around $130, it does the job of both steaming and then expertly pureeing foods without a lot of fuss.
Making your own baby food can seem daunting, but with the right gear and guidance it's easy. I recently followed the plan in The Amazing Make Ahead Baby Food Book, which shows how to make three months of pureed baby foods in three hours. Spoiler: it took more than 3 hours. But it did make an enormous and varied supply of economical, natural, and nutrient-rich baby food that I'm happy to still have in the freezer (although with my advancing baby and her ever-more numerous teeth, a mushy food format is less necessary).
For that project, I used my early-aughts-issue, Black and Decker food processor. It did okay. It's a workhorse (having served unquestioningly through my vegan years), but it has zero features designed to make baby food-making easier. Now that I'm a puree-making veteran, I wanted to see how the specialized baby food makers stack up. We sought out the highest-rated models on the market, including different types—electric, manual, and hand-held blenders—to suit different people's needs, and gave them a whirl.
We evaluated each baby food maker's performance across multiple food types, with 30 seconds of pureeing per dish. The first round of test foods included soft steamed and peeled apples, tough-skinned blueberries, and steamed dense butternut squash. Then we additionally tested the top three performers (two electric and the best manual) with multi-textured broccoli, leafy green spinach, and as a basic meat, chicken (all were also steamed). This is how they fared.
Updated January 05, 2018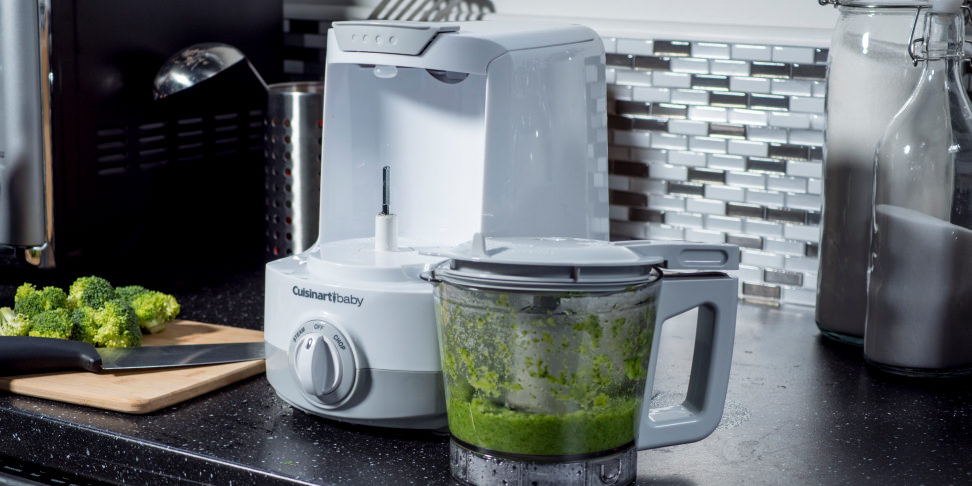 Cuisinart BFM-1000 Baby Food Maker and Bottle Warmer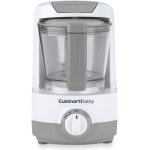 Cuisinart BFM-1000 Baby Food Maker and Bottle Warmer
Best Overall
The Cuisinart Baby Food Maker and Bottle Warmer falls into the impressive all-in-one category of baby food makers, meaning it both steams and purees the food (plus in this case, it also warms bottles). At first I couldn't get the steam function working on this all-in-one machine, but that was because I hadn't closely read the instructions about where to pour in the water. After the steam shuts off, it's a near-seamless transition to puree as you turn the dial to "chop" and hold for as long as needed -- only a few seconds in the case of apples.
It's the largest of the bunch with a four-cup bowl--a positive if you're making food in bulk, or a negative if you don't have room to spare. A small amount of the steam condensed on to the base around the bowl while steaming chicken, though this may have been a lid-placement issue. It also didn't do a great job of pureeing spinach, but the Cuisinart Baby scored perfectly on the consistency of the other five test foods. This machine takes a tough-to-blend vegetable like broccoli and purees it to perfection. What can we say? Cuisinart knows food processing.
Baby Brezza Complete One Step Food Maker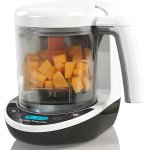 Baby Brezza Complete One Step Food Maker
Runner Up
The Baby Brezza Complete One Step Food Maker dazzles with a truly seamless steam-to-puree process: the puree function starts automatically after steaming and ends after 30 seconds. You can literally set it and forget it, even take a shower while the food makes itself. Plus, it has a simple, contemporary look that doesn't take up much counter space.
However, results varied depending on what food we used. Blueberries pureed nicely except for a few nearly whole berries. One-inch broccoli florets were still nearly intact after the automatic 30 seconds of processing, but came to a pleasing smoothness after stirring and an additional minute of processing. Spinach (for which there were no directions in the guide) became a disappointing slurry.
Another minus, but one you can learn to avoid: removing the bowl's lid is not intuitive and hurt my hand a time or two.
OXO Tot Mash Maker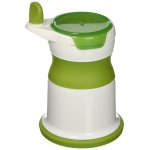 OXO Tot Mash Maker
Best Manual Masher
I was pleasantly surprised with what this little hand-cranked mill can do. The output is very small—it's designed to make one immediate serving at a time—but it's ideal for travel or to keep at the grandparents' house. The Mash Maker's purees come out flawlessly smooth. You'd never guess it's made by a manual gadget, and they may be even more palatable than those from the electric baby food makers.
The hand crank, applied with pressure, works quickly to generate a puree that may be rough, but adding water really helps with consistency—though obviously you'll need to steam some foods separately to soften it. For apples, 5-6 minutes of steaming was not enough to do anything. Even a few minutes more steaming barely budged the apples. However, OXO's blueberry puree was very impressive, retaining the least skin bits of any of the machines (The cleanup from the blueberries is less fun).
BEABA Babycook 4-in-1 Steam Cooker and Blender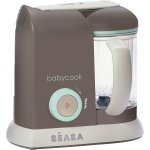 BEABA Babycook 4-in-1 Steam Cooker and Blender
This is another solid choice in the all-in-one steam and puree baby food makers category, with a compact countertop footprint and pleasing modern design. It performed well with apples and blueberries, but squash proved a challenge requiring more stirring after the first 30 seconds, and 90 seconds more of pureeing.
Beaba has a detachable spatula used both for scooping and for lifting the hot steamer basket out of the bowl, which then makes for a bit of an awkward dump of the food back into the bowl for pureeing. It also has a reheating and defrosting function, which is helpful for ardent baby food-makers who (like me) have frozen baby food portions in their freezer and know that steaming it to thaw retains more nutrients than microwaving. And for those bulk food-makers, Beaba also offers a two-bowl 4-in-1 cooker and blender, making it possible to prepare 9.4 cups of food simultaneously.
Sage Spoonfuls Immersion Hand Blender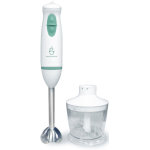 Sage Spoonfuls Immersion Hand Blender
The handheld unit for this stick-style immersion blender was smaller than expected (and so, easier to store) and the food processing container was bigger than expected (and so, capable of making more food). Both apples and squash required added water in order to blend properly, but blueberries came out great as-is.
A ridge around the central spinning unit on the lid of the processor makes it unnecessarily tough to clean. But here's why Sage gets an honorable mention: it handily makes luscious, Indian saag-worthy spinach puree in 30 seconds where two of the the top three contenders failed. So if getting your baby to eat her greens is key, this is one for you. And after the babies are grown, who's to say you can't continue using this as both an immersion blender and a small simple food processor?
Baby Bullet Baby Care System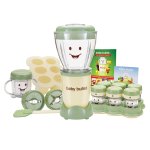 Baby Bullet Baby Care System
This 20-piece set is a whole Baby Bullet system, so you get the Magic Bullet-style blender plus numerous accessories and storage containers. It couldn't be simpler to use: just press down the top to make it puree. It works very well with apples and blueberries, however for squash I had to add water. It also required more than six additional rounds of scraping down the sides, then pureeing for 30 seconds again, before it was finished.
Most troubling? More than 50 verified purchase one-star reviews on Amazon say this set doesn't hold up under use. Other qualms: the big batch bowl lid was hard to get off at first, it's loud, and the smiley face branding on all the vessels is juvenile. Yes, the food is for a baby—but you're not a baby.
NUBY Garden Fresh Mighty Blender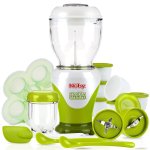 NUBY Garden Fresh Mighty Blender
This is another easy-to-use, Magic Bullet-style blender set, very similar to the Baby Bullet system above. Both sets claim you can use their product to make a week's worth of baby food in minutes, but this one additionally comes with a microwave steamer basket—useful if you don't already have one.
NUBY is the better of the two sets—like Baby Bullet, it delivers silky smooth purees for apple, blueberry, and squash (as long as you know to add water to puree the last). Unlike Baby Bullet, it doesn't seem to get those one-star bad-quality reviews on Amazon, though cleanup becomes more difficult when the base gets liquid in the cracks. It's also possible to start the puree function without the bowl lid attached (don't do this!), and the lid doesn't come off easily. Another quibble: the phrase "mommy made goodness" on the box could use an update to modern times.
NUK Mash and Serve Bowl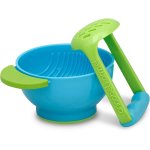 NUK Mash and Serve Bowl
Avoid
This microwavable, textured bowl with hand-held masher is better than using a fork in a bowl for a quick and rudimentary mash...but not that much better. Five to six minutes of steaming apples was not enough to mash them in the NUK. The apple pieces popped out of the bowl as I attempted to mash them, and more steaming didn't improve things much. It did a better mash than expected on blueberries, but still contained the biggest skin bits of all the devices tested.
It's disappointing because the Nuk has a cool, simple design, is compact and travel friendly, and is easy to clean. But in the end a bowl and a fork are more useful over time, and you already have them.