The Best Strollers Under $200 of 2018
By TJ Donegan
Go shopping for a new stroller at any big baby store and you're likely to come away feeling the same way: when did strollers get so expensive?! With some models costing over $1,000, it's easy to assume you need to spend hundreds of dollars to get a halfway-decent one. Not true.
I'm a parent, and I've tested dozens of the best strollers on the market and I can confidently say that most people can easily find a great stroller for less than $200. In fact, our runner-up in our latest roundup of the best strollers, fits the bill perfectly: The Chicco Viaro (available at Amazon for $199.99).
Though our favorite stroller overall—the Baby Jogger City Mini—typically retails for between $220 and $260, the Chicco Viaro has nearly all the same features for an MSRP of $199.99 (lower when on sale). It is easy to maneuver, holds plenty of stuff, is compatible with Chicco infant car seats, and it folds in seconds with just one hand.
But if your needs are slightly different, we have a whole bunch of sub-$200 strollers that we stand by. And if your budget is slightly different, you can also check out our guides to the best strollers under $100, the best strollers under $300, and the best strollers overall.
Updated January 05, 2018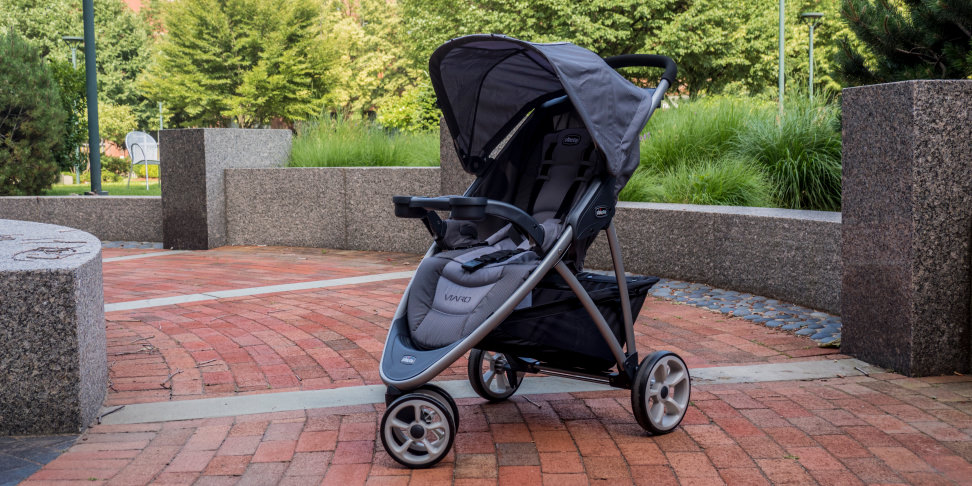 Chicco Viaro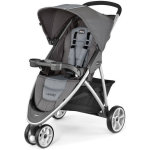 Chicco Viaro
Best Under $200
If you're looking for a relatively low-cost stroller that has almost all of the best features of our favorite strollers, the Chicco Viaro is the best value of all the strollers we've tested—and the best overall under $200. It has a three-wheel design that's very similar to the Baby Jogger City Mini (winner of our roundup of the best strollers of the year) with a lightweight frame, a tight turning radius, and a pull-to-fold handle that lets you fold the stroller in seconds.
Though we ultimately prefer the City Mini, the Viaro actually has some advantages over our top pick. The storage basket is larger and more easily accessible, it includes the cupholder and child tray by default, and sale prices dip as low as $150 at times.
What are the downsides? Well, the canopy doesn't connect to the back of the stroller and so it has minimal protection in the rain. The Chicco Viaro is designed for children up to 50 lbs (or 36 months) and supports Chicco KeyFit and KeyFit 2 car seats natively. It does not support other car seat types via adapters, but it does come with a one-year warranty.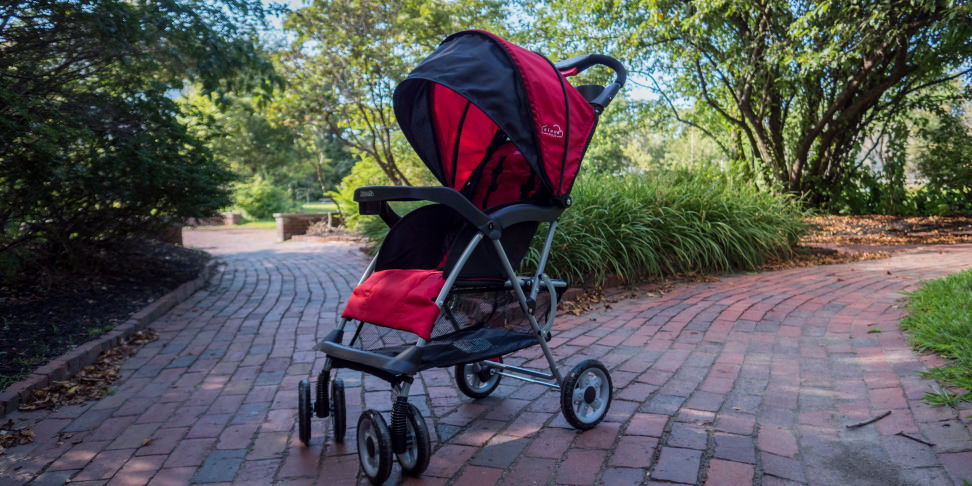 Kolcraft Cloud Plus Stroller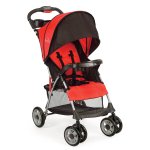 Kolcraft Cloud Plus Stroller
Best Overall
If you're in the market for a lightweight or umbrella stroller, we think the best is the Kolcraft Cloud Plus, the winner of our roundup of the best lightweight, umbrella, and travel strollers. In our testing we found it had the best all-around combination of size, build quality, maneuverability, cost, and features. It weighs less than 12 lbs, costs less than $70 on sale, and has features and storage space on par with larger, more expensive models.
Unlike the other lightweight models we looked at, the Cloud Plus can quickly fold up with a single hand using the folding mechanism on the handlebar. It takes some practice, but it is a snap once you get it down. It's not a true "umbrella" model in that it doesn't fold into a long, skinny shape, but it is very compact when folded. It can even free-stand, something none of the umbrella models we looked at could do.
Beyond that, the Cloud Plus excelled in our real world testing. My favorite part was how accessible the storage basket was, making it easy to stash bags, blankets, and other gear. I was also impressed by how easy it was to push and maneuver around obstacles, and the fact that you get both a parent tray and a child tray is great for the price—many similar models don't include either.
It's not quite as sturdy as the best full-size strollers, but this was easily the best lightweight model we looked at. Even if you're in the market for something closer to a "traditional" umbrella stroller, the Cloud Plus is worth checking out.
Summer Infant 3Dlite Stroller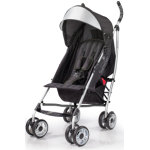 Summer Infant 3Dlite Stroller
The Summer Infant 3Dlite is one of the most popular strollers on the market, and it's easy to see why: It costs around $50-60 on sale, it weights just 12 lbs, it feels a bit nicer than most other strollers in the price range, and it has a good amount of storage.
In our testing we found that it was highly maneuverable for an umbrella model, though its plastic wheels still struggled on rough or loose terrain. It does have a small wheel base, though, making it easy to get in and around tight corners or cramped stores where larger strollers wouldn't fit.
It did come in slightly behind the Kolcraft in our testing for a few reasons. It doesn't come with a child's tray, it's a little trickier to fold, the canopy isn't quite as nice, and the underseat storage isn't as easy to access. It does fold into that traditional umbrella shape, but it's very long and actually can be tougher to store sometimes as a result.
That said, it's lightweight, affordable, and of the hundreds of user reviews we've read, most are very positive. It's also especially good for taller parents (think 6'1" and up) who may have to bend over to reach smaller models.
Baby Jogger City Tour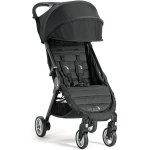 Baby Jogger City Tour
The Baby Jogger City Mini won our roundup of the best standard strollers, so we had high hopes for the City Tour, which is lighter and can fold down to an even more compact size. It performed well in our tests, but it costs around $170 on sale, which is still about $100 more than our top pick.
The City Tour is not a traditional umbrella model, but it weighs just over 14 lbs and folds down a size and shape that we feel is actually better suited to travel. Like the City Mini it has a pull-to-fold handle on the seat, though you need to fold it a second time using a button on the handlebar to get it to its smallest size.
When open, the City Tour is actually quite a bit sturdier than other lightweight models. The wheels are still smaller than a standard model, but the frame feels much less wobbly than your typical umbrella stroller. The canopy is also excellent, but like the City Mini you have to pay extra for a child's tray or a parent console/cupholder.
The major issue, however, is the seat. User reviews on this model continuously called out the seat for being too shallow and sloped, meaning the center strap is often the only thing holding your child in place. My 15-month-old was fine, and the seat isn't shorter than the other umbrella models we looked at, but you may want to give this a shot in person before you commit, given the relatively high price tag.
Graco Modes 3 Lite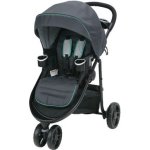 Graco Modes 3 Lite
The Graco Modes 3 Lite stroller is a classic example of how to turn around a horrible first impression. This stroller was the most difficult to assemble of all the ones we tested, and the first time I built it, I forgot to install the brakes because I didn't follow the instructions closely enough. Was that stupid of me? Sure, but it shouldn't even be possible.
Get past that, though, and the Modes 3 Lite stroller is actually quite good. Though there are some reports that it can develop a squeaking sound in the wheels, its other user reviews are very good. The stroller is highly maneuverable, has a smooth ride, and uses a sturdy fabric for both the seat and the canopy. It also includes a lot of storage space under the seat, with enough clearance that it's easily accessible.
The best feature, though, is the FastAction fold, which is nearly identical to our favorite stroller feature: the Quick-Fold strap on the Baby Jogger City Mini. The Modes 3 Lite snaps into a folded position quickly and stands on its own, though it's bulkier than the City Mini and would be a bit more of a pain to lug up and down stairs.
Overall, it's an exceptional value at under $200 and very, very close to the Chicco Viaro (our pick for best value). Their designs are nearly identical—suspiciously so—and both have the same annoying-to-assemble wheels. The Viaro wins this time because it doesn't seem to have squeaking issues, but if you prefer Graco car seats to Chicco, then this is a fine alternative.
The Modes 3 Lite is designed for children up to 50 lbs, but it's only compatible with Graco Click-Connect car seats (you can purchase one with the stroller if you opt for a travel system). It comes with a one-year limited warranty.
Graco Travelite Stroller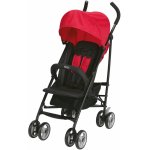 Graco Travelite Stroller
The Graco Travelite is a new contender in the lightweight/umbrella space, and it's a very good alternative to the Summer Infant 3Dlite. Design-wise, it's very similar, with a full-size canopy, large seat that works for children up to 50 lbs, and a small underseat storage bin.
Folding the Travelite is quick and easy once you get the hang of it, but it does require two hands and some practice. Once you release the horizontal bar that keeps the stroller frame rigid, the stroller snaps shut in a hurry. When folded it's a long, skinny shape that's about the same size as the 3Dlite.
In testing, we liked the fit and finish of the Travelite. Though not on par with a high-end stroller or anything, the seat, canopy, and buckles all felt sturdy. The wheels are small and plastic, but no worse than others in the category. We also liked that it included a padded belly bar, though a full child's tray would've been better. It also includes a cup holder for parents but it's very shallow.
Ultimately, it's a good stroller but if you're going to spend upwards of $70 we think the Kolcraft Cloud Plus is a better pick. And, if you want an umbrella shape, the 3Dlite is just about as good. The 3Dlite appears to be more consistently on sale (often around $50), but if this were to drop into that range we'd be just as keen on it.
Summer Infant 3Dtote Stroller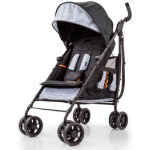 Summer Infant 3Dtote Stroller
If you like the idea of an umbrella stroller but are turned off by the limited storage capacity, the 3Dtote is the way to go. Design-wise it's nearly identical to the 3Dlite, with small wheels, a reclining seat, a full-size canopy, and a slightly tricky two-handed folding mechanism.
Beyond that, though, it's improved on the 3Dlite in nearly every way. It has a nicer fit and finish, seems to be made of stronger stuff, and it has a significantly larger storage area. It could easily hold a full-size diaper bag, multiple winter coats, and still have dedicated pockets for all your toys, keys, bottles, and other accessories.
When folded it is a manageable size (like the 3Dlite, it's long like an umbrella) but compared to most lightweight models this thing is big; it's longer than even most standard strollers when folded and nearly as heavy at 18 lbs. Though that elongated shape may be more convenient for some people, my Baby Jogger City Mini actually fits in my car more easily.
The only other drawback is the price. At over $100 it is quite a bit more expensive than our top picks in this category. That might be worth it if you absolutely need the storage, as only a full-size "standard" stroller will hold as much and those start around $150.
Baby Trend Rocket Stroller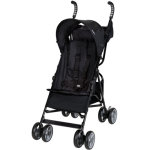 Baby Trend Rocket Stroller
The Baby Trend Rocket Stroller comes very highly recommended online, with very positive customer reviews overall—especially given the stroller is usually just $50 or less on sale. That said, in our tests it just didn't live up to expectations. The main issue is the canopy, which was wobbly, difficult to attach, and wouldn't stay in place.
If you can get past that, the Rocket isn't a bad lightweight model. It's a bit trickier to assemble than others we tested, but it wasn't bad overall. It has an easily accessible storage basket, a tight turning radius, but—stop me if you've heard this before—its small wheels struggled to get over obstacles.
The main issue here is just the canopy. You're going to want it on sunny days, and we just have zero confidence this one is going to hold up and we don't have those concerns about the others we tested.
Graco Literider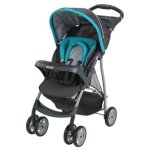 Graco Literider
The Graco Literider is very popular online, but it's a stroller that is much better on paper than in the real world. The appeal is obvious: it's a sub-$100 stroller that has a full-size canopy, large wheels, a reclining seat, a child's tray, cup holders for the parents, and it even accepts Graco ClickConnect infant car seats.
I was very excited to see what the LiteRider could do, but it simply didn't live up to expectations. It had an unnecessarily obnoxious assembly process, the canopy never quite sat right, and the stroller was tough to fold correctly—and even when you get it right it isn't that compact.
That said, the stroller is fairly maneuverable and has a very easily accessible storage basket. The padded seat is nicer than most of the other lightweight models we tested in this price range, and you do get both the child/parent trays in the price. The user reviews are good, though, so we don't expect many long-term issues despite the poor first impression.
The fit and finish wasn't what I hoped for, but you can't argue with the value. Not only is the stroller affordable, but you can find it as a travel system (meaning it includes an infant car seat) online for just $100 on sale, which is among the cheapest options we've seen.